Kim Basham regularly contributes to ForConstructionPros.com with publications available on their website and via links below dating back to 2009. Additional publications can be found at ConcreteConstruction.net spanning from 1988 – 2007.  Please contact us if you have any questions about the titles listed below or would like to inquire about additional publications not available online.

How to Avoid the Delamination of Steel-troweled Floors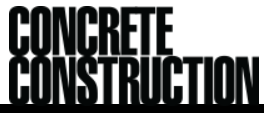 WHAT IS FLY ASH?
ADDING FLY ASH TO CONCRETE MIXES FOR FLOOR CONSTRUCTION
FINISHING-TOOL PRIMER
CHOICES IN CORROSION-RESISTANT REBAR
CONQUERING THE BASEMENT FROM HELL
GETTING STARTED WITH ICFS
CONTROLLING CRANE RENTAL COSTS
PREPARING SURFACES FOR COATINGS
FINE-GRADING WITH TRACTOR LOADERS
TESTING FRESH CONCRETE IN THE FIELD
JOINTS IN POURED WALLS
PLACING AND VIBRATING POURED CONCRETE WALLS
EVALUATING CRACKS IN CONCRETE WALLS
HOT WEATHER AFFECTS FRESH CONCRETE
CAN CONCRETE FLY?